BY RIKI ALTMAN-YEE & LUIS R. RIGUAL | MAY 29, 2019 | HOME & REAL ESTATE
A South African design firm makes its American debut with an eye-catching residence on Di Lido Island.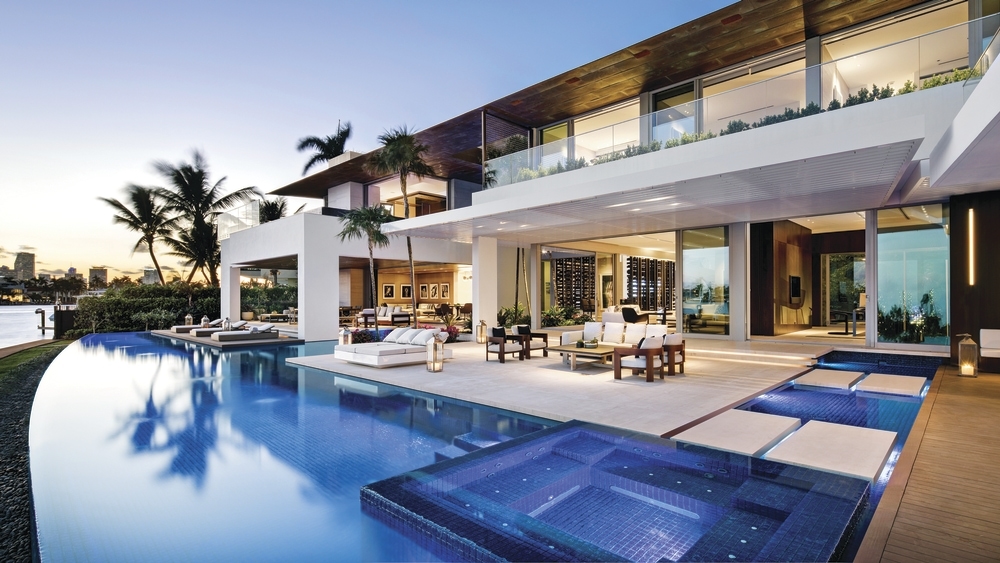 Deep covered outdoor spaces (conceived to resemble the stern of a yacht) characterize the back of the residence, which was designed to seamlessly transition indoor to outdoor.
When the South Africa-based SAOTA Architects was tapped to build its first American project—a 17,500-square-foot, two-story home on a pie slice-shaped lot in the Intracoastal Waterway—director Mark Bullivant admits he was apprehensive. "It was, obviously, a huge opportunity for us," he explains, "but because there was a historic home there and the owner was pushing the limits, we had to go to the Design Review Board. Everyone told us it wasn't going to go well."
As it turns out, "everyone" was wrong.
Though SAOTA has been making waves since 1987 with incomparable work in 86 countries, Bullivant says building on this exclusive enclave (part of the Venetian Islands chain connecting Miami to Miami Beach) presented a number of unique challenges. "We were a little bit nervous and entirely naive," he explains. "All of a sudden we had to work in feet and inches, and learn hurricane codes." Thankfully, they had help from seasoned locals like Kobi Karp, the project's architect of record, and Rick Peña of Prime Group Management.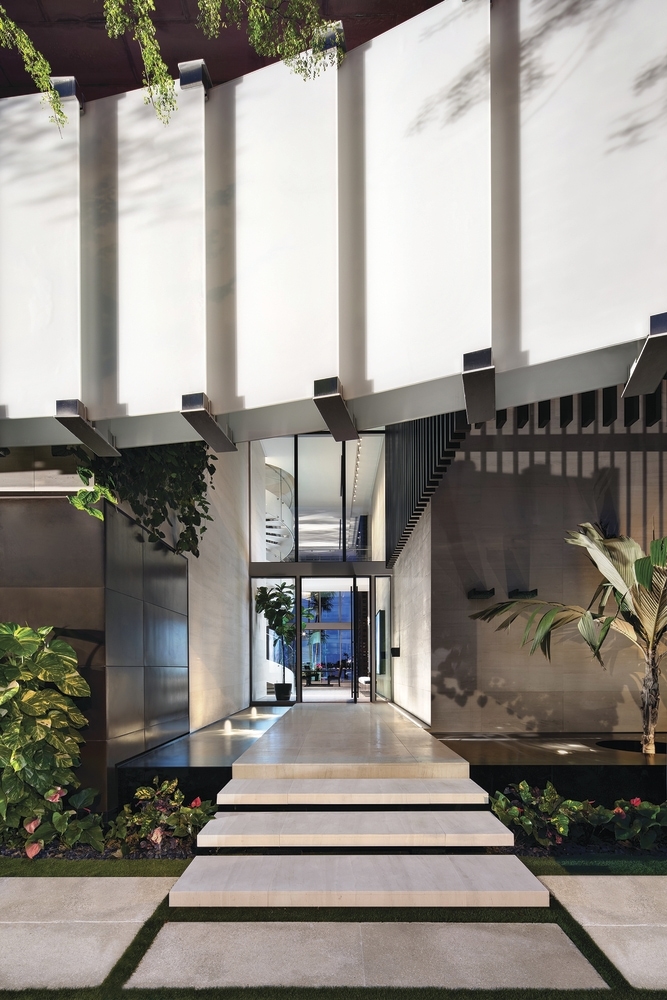 The main entry is defined by a series of wall planes and volumes.
The high-profile client, a father of three who entertains often, gave the team very clear directions: a timeless home that was organic with water elements on all levels, including a rooftop that optimized views and accessibility to various water toys. To that end, SAOTA primarily used limestone, stucco and copper to create the two-story residence with six bedrooms, gym, home theater, rooftop terrace and three-car garage. "The basic structure has two wings with a central double-height space, which is the entrance hall that becomes a dining room," says Bullivant.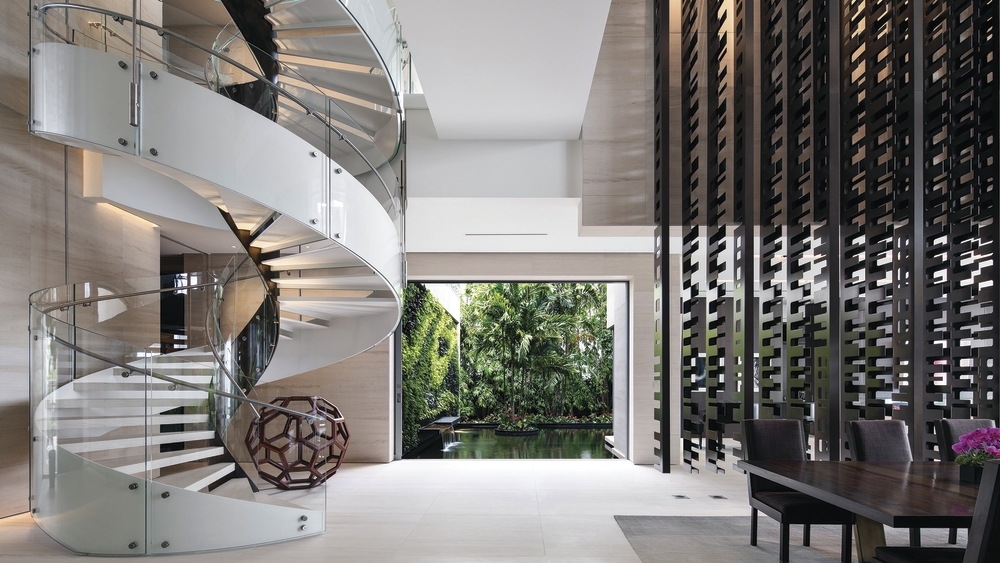 A floating staircase lends a sculptural touch to the home's interior
"There's a principal roof that ties it all together. It's got a very precise, razorlike edge that plays off the massive limestone walls."
SAOTA approached the home's interior layout with nods to its island locale, incorporating a pond at the entrance and a reflecting pool surrounding the study. L.A.-based designer Lynda Murray handled the furnishings. "I wanted it to be both timeless and casual, with elements of sophistication and a consistent color palette," says the homeowner. "I [asked Lynda to] blend stone, metals and wood to create both a functional and superluxurious experience. She has a unique understanding of contemporary architecture with a tropical feel." Adding its unique signature, SAOTA suspended locally forged metal screens with bronze undertones from the ceiling, visually separating the formal dining space from an otherwise open-concept entry.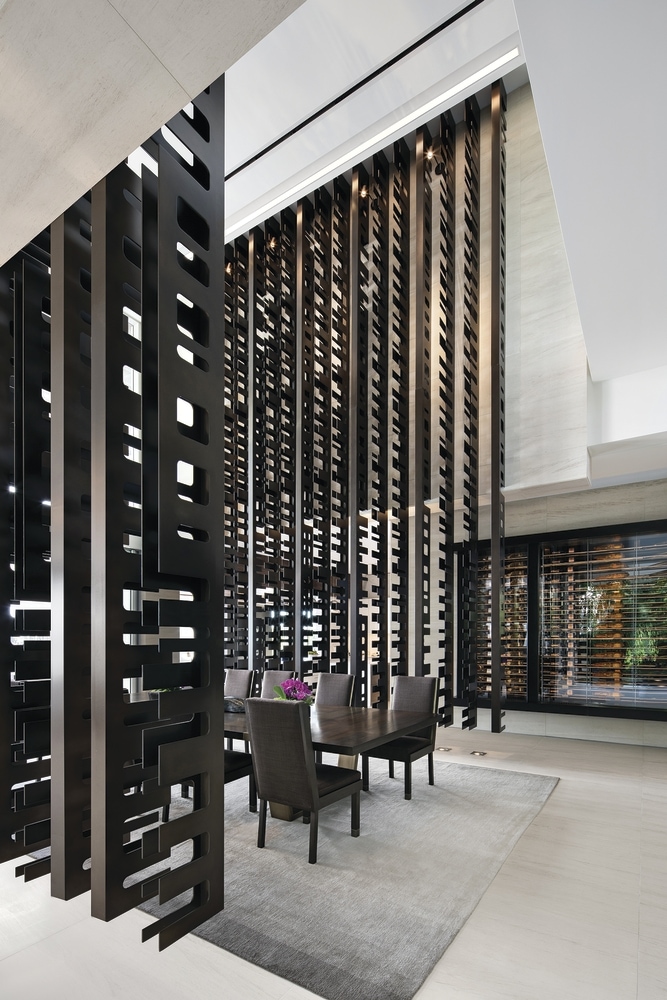 Various design elements, such as this suspended wood screen in the dining room, add texture to the interiors
Like much of the home, the dining room offers expansive views of the water, fulfilling the client's desire to feel truly connected to the surrounding environment. "He was quite explicit—he wanted the backyard to feel like the stern of a megayacht," Bullivant explains. SAOTA joined forces with lauded landscape architect Raymond Jungles to create an outdoor environment that includes a fully functional bar and pop-up outdoor table for on-water dining. "The appearance of the garden coming into the home was a big deal," Bullivant adds. Mexican lighting specialist Lux Populi was called in to illuminate the entire property, including the pond that houses the owner's prized koi.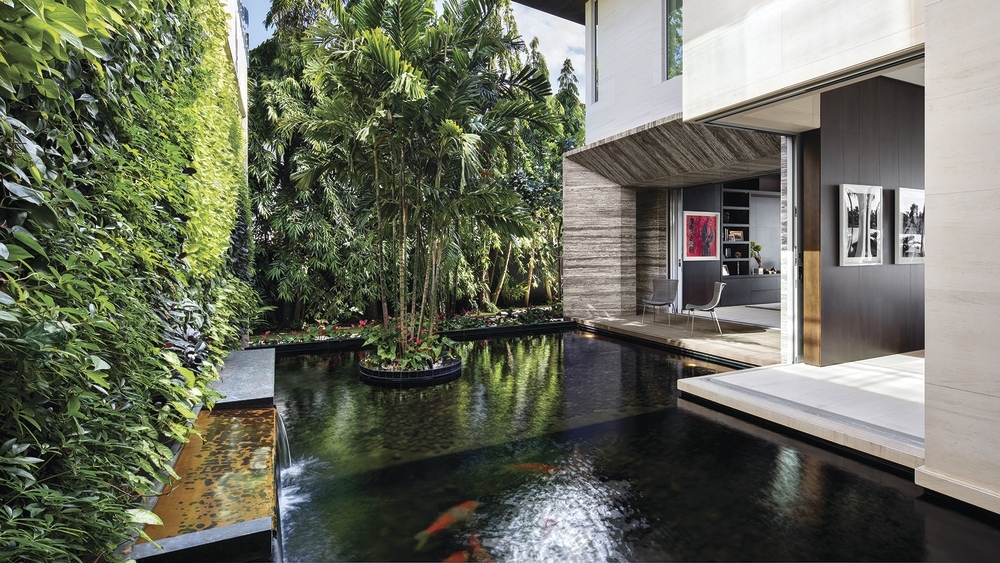 A pond houses the homeowner's prized koi.
Though SAOTA had to dip its toes into the unfamiliar to make a splash, other projects continue to elevate its standing domestically. Another expansive home it designed on Pine Tree Drive sold for $23 million, and the firm now has others underway on Star Island and Golden Beach.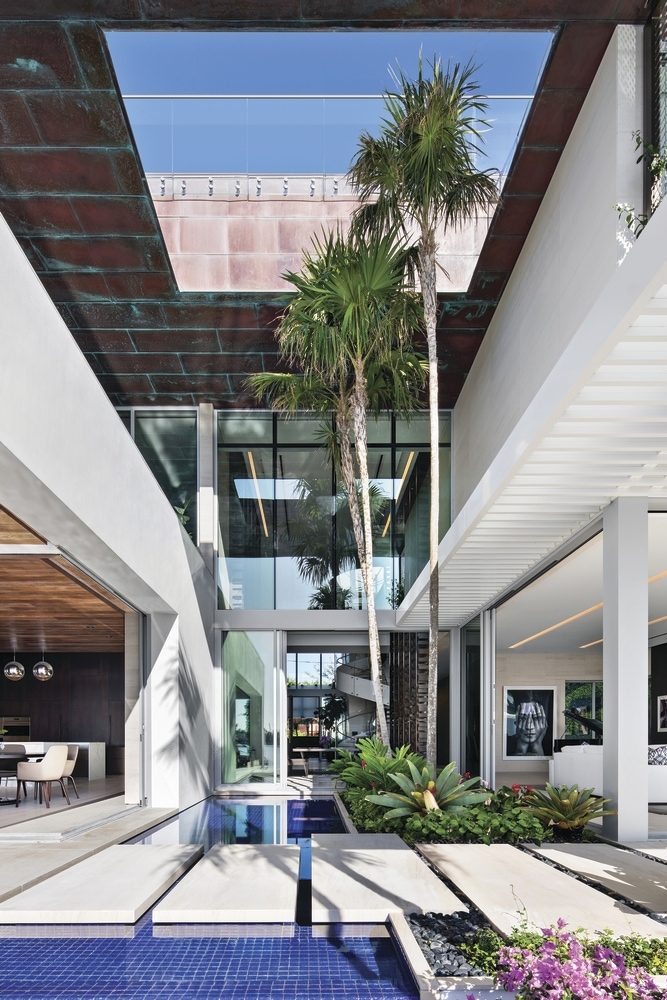 A dramatic double-volume outdoor space, complete with a reflecting pool, connects one area of the residence to the other in the organic manner the homeowner desired.
"Where we ended up is something different from the norm in Miami," adds Bullivant.But a most desired destination nonetheless.
PHOTOGRAPHY COURTESY OF: ADAM LETCH, SAOTA ARCHITECTS